There is no wonder if you got this question in your mind that how to froth oat milk at home? Or whatever plant-based milk.
Overwhelming that majority of the world population turning to plant-based diets now.
The global market of oat milk raised over 250 million USD in 2019. This because of the increase in dairy products(milk) allergies and increasing consciousness in health benefits of having plant-based milk globally.
Interest in oat milk increasing day by day. In the same fashion, preparing the oat milk frothy & deliciously is quite good to drink.
Everyone knows that dairy milk froths well. But what if it was plant-based milk like oat milk. Does it froth well?
Either you are an enthusiast in finding new recipes in non-dairy milk or a plant-based milk lover or a vegan enthusiast now. You must understand the in's and out's clearly.
If so you are on the right road map of gaining your original health back. There are some great doubts to get cleared before knowing about frothing oat milk at home.
Can I froth oat milk?
It is a common query that will come to your mind that can you froth oat milk. Because, unlike dairy milk, it is not directly milking(derived) from the cow. It's just milk that is extracted from whole oat grains.
But we cannot conclude based on that. we need to dive into the chemistry involved in it.
When you questioning, "Is oat milk good for frothing?" I say yes & but…!
We know dairy milk is a good source of high-quality protein. The rest of the milk is low when compared with dairy milk. Protein is responsible for the hold up the air and frothing.
In the case of dairy milk, there is enough amount of protein for microfoam formation. But in oat milk, quite a little protein only available. But's it a decent amount to make froth even up to do latte art preparation level. So don't ask yourself "can I foam oat milk?".
Yes. you can froth oat milk, You will see good results between 55 to 65 deg. C
How long do you froth oat milk?
Hardly it takes more time to froth(almost twice the time of dairy milk) the oat milk when you froth using manual hand pump milk frother as it is not dairy milk to froth fastly. But it needs to be tested for different methods to see the results of how long do you are required to froth oat milk.
But in case, if you are using the insulated flask method as mentioned above, you can shake the flask to level up to which you see a good amount of froth.
Can you froth Oatly?
Some of you might be got a question first of all "does oat milk froth?" before coming to oatly milk.
By the way, you are looking to know how frothy it will be when you froth oatly oat milk, it seems you are such a plant-based milk lover who looking best for oat milk. Many brands are in the market for oat milk. However, oatly is one of the perfect choices to do froth the oat milk.
It results in rich and creamy froth when frothing well. But the negative part is the foam will not last for a longer period as equal to dairy milk. But it is good to serve best just after preparation.
Barista edition of Oatly milk is made for frothing. This will took off your doubt "can you froth oatly?" from your head. Some of the remarkable benefits such as
Rich in unsaturated fats which helps in maintaining recommended daily cholesterol level.
Added with potassium 220mg and phosphorus 110mg acts as electrolytes for you.
It contains beta-glucan rich in soluble fiber that helps to digest your daily meals completely.
The best part of oatly is which is available with different editions like full fat, low fat, barista edition and based on user preferences, it is available with different forms such as chilled, on the go, oatgurt & cooking.
So, you would like to know how to froth oat milk at home.
If you are trying to froth oat milk at home, there are few limitations you have. Either you may think of, it is expensive to buy milk frother just for a cup of coffee. Or you feel lazy to use any separate utensils like milk frothers specifically for frothing. Yes, in some cases. But the frothing using frother has a significant advantage over others.
How do you froth oat milk without a frother?
Oat milk can be froth well without a frother. But there is a significant difference in frothing oat milk without frother. You will taste the real natural flavor of oat milk rather than what happens with frothing machines.
Let us come to a practical scenario what can I use if I don't have a milk frother and how do you froth oat milk without a frother. Based on our typical kitchen utensils and pieces of equipment in the home. We are come up with the best ways to try out.
8 ways to froth oat milk at home without a frother:
1. Froth using manual method
One of the best methods to froth oat milk at home is froth using a manual hand pump milk frother. But you can also do froth without frother.
The manual method is ready to do the method. You don't need any fancy appliances to do that.
We can froth oat milk without using a frother, It's just an insulated flask, we can use this as a milk frother by using manual shaking.
Step 1 :
Pour the milk into the bottle to warm it up. Heat it in a microwave oven until it reaches 60 degrees Celsius.
Step 2:
Take an insulated flask of the capacity of 300 ml. Pour the heated milk less than 50 % capacity of the flask to give enough room to shake and build pressure. i.e., take 150 to 175 ml of milk and insulated flask.
Step 3:
Close the lid of the insulated flask and shake well up to 40 seconds.
Step 4:
Open the insulated flask. Open carefully, as the pressure builds up inside the flask, leading which leads to a bursting effect while opening the lid.
Step 5 :
Swirl & pour the shaken milk into the milk pitcher. You will see the very fine bubbles formed in the milk. And ready to serve.
This method creates air bubbles that are not stable. We need to shake enough to get the desired amount of quality bubbles. If you are not hesitating to spend a little penny and learning how to use a manual milk frother, then get some manual hand pump milk frother based on your budget. It will help you to acquire high-quality foam & you can control the foam quantity
2. Use manual butter churner to froth
It's a new word to most of you. But it's a long-run traditional way to churn out the butter from buttermilk using a lot of traditional equipment.
But nowadays, the traditional turned into modern equipment called butter churner. The science behind churning out butter is the same as for frothing milk. So we can use the butter churner to froth oat milk.
It has a similar approach as the same as a handheld electric milk frother, the only thing you need to do by hand by rotating the lever.
So how do you make oat milk foamy? Just pour the milk into the glass bottle & close the lid & rotate the lever. Glass bottle is transparent, you can see the froth & control them too. It gives you the frothed oat milk soon as possible.
3. Get froth using hand electric mixer
If you have hand mixers and you are using them for kneading dough cookies, pancake batter, waffle batter, and mixing cakes.
Also, you can use this as a frother here.
Just pour a heated(Heat a little higher than the desired temperature, because temperature reduces while frothing) oat milk and immerse your hand mixer turn it on with slow speed initially & go with high speed.
The whisk attachments will help you to froth well. You will see how good is oat milk for frothing when you use a hand electric mixer.
4. Froth high using a hand immersion blender
If you have a hand immersion blender, you are good to go froth oat milk right now.
The hand immersion blender works similarly to the hand electric mixer. There is a difference among those, the hand immersion blender is used for beans, peas salads. Just because that we cannot conclude that it is only for that purpose.
The hand immersion blender also froth well once use in the same procedure as the hand electric mixer. Do froth by giving enough room in the jar you are using or use a larger bowl to froth oat milk.
Also, the hand immersion blender works almost similar to the handheld electric milkfrother. The same whisk attachments come under both
5. Froth hard using your food processor
Your kitchen will not be a kitchen if it lacks a food processor. I am sure that you must be having a food processor in your kitchen for your various applications.
A food processor is made of strong high strength which attachments inside the processing jug, because, the purpose of the food processor is to process hard solid foods.
There is no doubt about the food processor. It can be used to froth oat milk. You will get merely similar results of frothing using some devices.
Do not heat the milk before frothing. A food processor is some sense to high-temperature liquids in it.
Once you frothing oat milk. Then heat the same in the microwave oven with the safe bowl
6. Turn your blender into a milk frother
The kitchen blender can be used as a frother machine as it has similar working functionality as the same as Breville milk frother only thing is the blender not comes with a frothing disc at the bottom.
Also, the food processor and the blender does the work the same. While a food processor is used for solid foods, a blender is used for liquid or make juicing the fruits.
So the user application is the same for both as it works well with juicy liquids, also we are using the same liquid(Oat milk).
The resulting froth you get will be more good than how you froth using the food processor.
Just pour the oat milk into the blender jar and do froth by turning it on.
No need to worry about them spilling out of milk as it has a large capacity that has enough room to hold even two cups of oat milk in it.
Try it out, you don't look answer for "can you froth oat milk without a frother?
7. Use a whisk to froth oat milk at home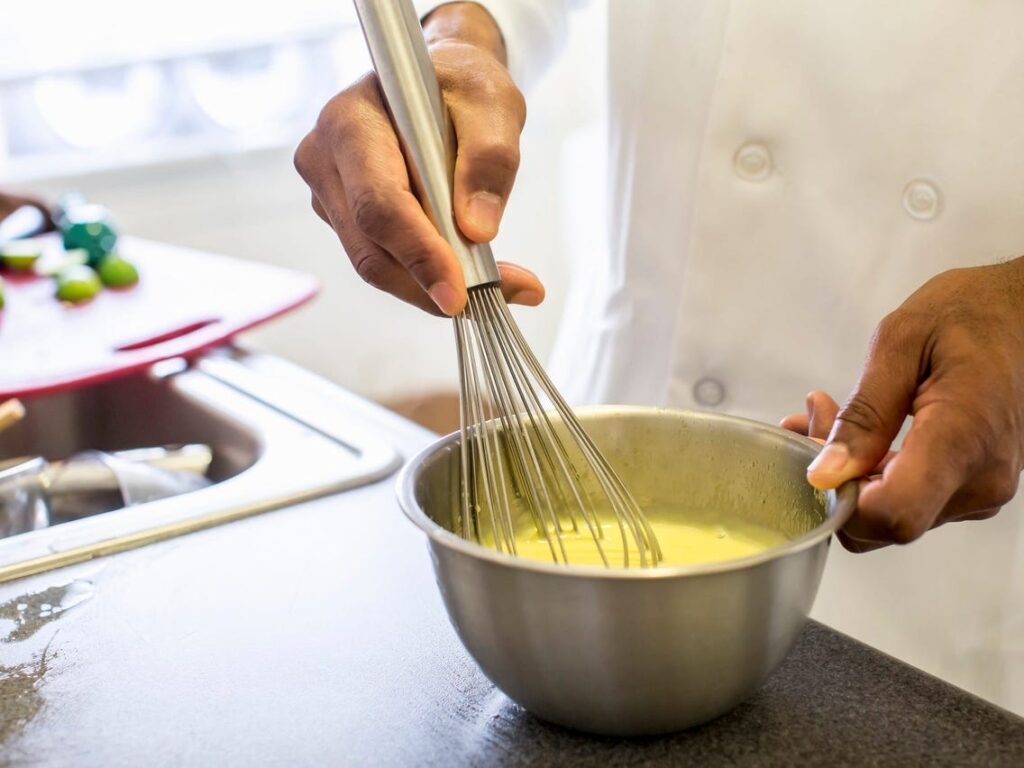 If you have a whisk in your kitchen. You can use it too for frothing. It has a similar procedure as sam a hand electric mixer. But then you need to do it by hand only.
Use this method only when you lack other methods mentioned above.
Because the froth quality is less when compare that with the other frothing mechanism as it is doing by hand. Also, bit harder to create enough froth as it takes a long time.
It takes time to master the technique
8. Cake mixer
Probably, if you are not a baker, you will not have this.
Use this to froth oat milk if you have it in your kitchen. Though the volume of the jar is less, it cannot hold a large cup of milk. Also, you will not abe to close the jar, milk will spill out on running. Trial it with little quantity first.
So, just pour the small amount of oat milk & turn on the mixer. Wait for some time to get the desired amount of froth.
However, For a cup of oat milk, you can use this wisely.
Conclusion:
When you are trying to froth oat milk at home. Unless you are more comfortable with any of the above methods & if you are very new to frothing milk. The best choice is to froth oat milk is using the manual method & using a blender.
Even though you are using alternatives for milk frother, there will be some uniqueness in doing using the milk frother.
If you feel bored & tedious to acquire a good amount of froth by applying the above methods, here are some cost-effective milk frother which will cost you few bucks and give you an enjoyable cup of frothed milk daily. You can use it for any milk to make froth.